Some of Our 2011 Highlights...
Tattered Angels Mini-Trunk Show

Showing Tattered Angels' newest colors in Glimmer Mist, Chalkboard, Glam, and Glimmer Glaze!
Only Here Until December 30th!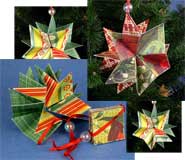 FREE Holiday Make-n-Take
Every Saturday Until Christmas
How many of our FREE holiday gifts did you get? Every week for six weeks we lead customers through a different FREE holiday Make-n-Take including a great gift card or card front, a joyful cup that can be used for holding a small gift or a gift card, an angel card, and an ornament that folds out from a 1½-inch square. We hope you were able to drop in and make a few of the projects with us!
Oh My! Stamping Details' Halloween Sale!
Friday October 28th – Monday October 31st
15% Off ALL Product Purchases Up To $50
20% Off ALL Product Purchases Over $50
DAILY SPECIALS
Friday October 28th – All 8½ X 11 Papers 3 for $1.00
Saturday October 29th – All Ribbon 25% OFF
Sunday October 30th – All Punches 25% OFF
Monday October 31st – All Cuttlebug (dies and folders) 25% OFF
DAILY RAFFLE PRIZES: every day of the sale we will be drawing a name to win a $10.00 Stamping Details Gift Certificate. Come in each day for a chance to win!
FREE Spooky Make and Takes!
Friday October 14 and Saturday October 15, 2010
Vicki and Clare got together and came up with three scary designs... Our customers learned new techniques with paste and flocking!! They made a scary Spider Web Make and Take for FREE on Friday from Noon to 2 p.m. On Saturday from Noon to 2 p.m. they made either a Haunted House or Spooky Tree for FREE, and the other for only $2.
Memory Box Classes With Design Editor Theresa Laurent
We hope you didn't miss out on your chance to take two great Memory Box classes that were lead by their Design Editor, Theresa Laurent! Students learned five Christmas-themed cards using the latest Memory Box stamps, papers and dies in Memory Box Christmas. Then Theresa taught about color, blending and shading while using Memory Box images and papers and their latest dies in Memory Box Holiday Blending. The classes were Friday October 14, 2010.

Laurie Mika: Covers in Clay
In her Covers in Clay workshop Artist Laurie Mika, known for creating "contemporary icons" by employing her own unique handmade tiles along with mosaics, beads, and jewelry, showed how books or journals can make the perfect base for creating richly embellished mixed media mosaic covers that have a jewel like feel. With the use of stamped text in clay, painting, collage, transfers, embedding, beading and metal leaf, her students created book covers that were functional as well beautiful to behold.

Thank You For Voting Us #2!
10news.com A-List BEST Shopping Arts & Crafts
The results are in for 2010's 10news.com A-List and we've been voted #2 BEST Shopping Arts & Crafts! Thank you to all of our wonderful customers who've voted us to the #2 spot for the third year in a row. And congratulations to South Sun Products who is #1 in 2010! Others in the top five are: #3 Cool Scrapbook Stuff, #4 Daydreams Ceramic Café, #5 The Stamp Addict.
Banner Artwork By Nancy Wikoff
We're reprising our A-List banners with the tenth banner in the series featuring customer artwork. This one features background artwork by Nancy Wikoff. To see all of the customer banners we used during the contest, check them out in our A-List Banner Gallery.
Trash to Treasure Garage Sale
On Sunday August 21st we held another of our popular "Trash to Treasure" garage sales and many of our customers took the opportunity to clear out old craft items that weren't using, and found bargain-priced treasures!

Old Poway Village Artwalk
Wednesday August 17th - 4 to 8 PM
Old Poway Village is hosting a FREE Artwalk the third Wednesday of every month starting Wednesday August 17th! The artwalk is an opportunity to come and meet each month's featured artists while enjoying the shops in Old Poway Village. This month's artwalk will have bonus book signings with Larry Keough and Linda Boltman, and artist Janet Perkin (her painting, Senorita, is pictured to the left) will be in our store.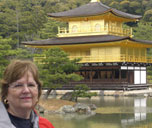 Welcome So Cal Shop Hoppers!
The 2011 So Cal Shop Hop was on from July 29th until August 14th and we were welcoming Shop Hoppers to our chosen theme destination: Kyoto, Japan. Wearing their So Cal bottlecap necklace and with their Shop Hop passport in-hand, Shop Hoppers received a 20% discount at official Shop Hop stores during the event. Plus each store had a Make-n-Take and there were suitcases full of prizes! We hope everybody had exciting travels and plenty of fun!
Linda Bradbury's July Visit
Five New Classic Expressions Classes!
Plus FREE Curlytails Demo
Linda Bradbury came back with five brand new classes! Her classes started Thursday July 21st with Spa Day and Blossom Art and Inspiration. Classes continued through Sunday the 24th with Surf's Up, The Flower Fields, and Happiness... Handmade. And on Saturday the 23rd Kim from Curlytails did free demonstrations of their products.

Spring 2011 and Tim Holtz Catalogs
View Them Online Now!!!
One of our biggest distributors has made their Spring 2011 and Tim Holtz catalogs available for viewing online in a way that, working with them, we can now share the catalogs online with you!
Now you have the opportunity to flip through these catalogs online and see and order from us the products that we don't have the room to stock in our store. How fun and convenient is that?! To order these products from us,
just print the order form, fill it out, then mail or fax it to us, or drop it off in our store. The Tim Holtz catalog begins on page 93. Our Order Form is at the back of the catalog on page 154. To print the order form you need to use the Print tab (see the picture to the left) in the left side of the window – it's the middle of the five tabs along the left side of the catalog. Then you can select "Print Left Page" and Print.
7th Anniversary Celebration!
We celebrated our 7th Anniversary on the Memorial Day weekend with some fantastic savings: 25% off Tattered Angels, Cuttlebug folders and dies, Anna Griffin oil cloth bags and holders, all punches, Fancy Pants paper, and My Mind's Eye paper. Plus FREE make-and-takes! And the Paper Parachute Trunk Show was here with rubber stamps, papers, Illuminata Art Labels, and more!
Susan Mostek Visit With New Classes And B Line Designs Trunk Show
Susan Mostek visited us May 15th with two new fun classes and a B Line Designs Trunk Show! Using new images from B Line Designs students made a card that pops up while the sentiment slides out in Susan's Sliding Pop-up Card class. And in her second class stampers made two Triple Tier Slider cards while learning Susan's tricks for making this card a "snap" to make! Plus, we had many of B Line Designs' newest designs in store with the B Line Designs trunk show. We hope you had a chance to take a class and shop the trunk show!

Linda Bradbury Was Back
AND With Her Sister Linel Mehus!
Linel Mehus, Linda Bradubury's twin sister, visited us for the first time! Linel and Linda were here April 6th through the 10th to teach a half-dozen new classes. The fun started with Linda's Fun at the Beach class. Then came Loving Thoughts, and Simply Spring/Simply Stated, taught by Linel and Linda. And Pocket Full of Posies, Dress It Up, and The Gift of Giving. We hope you were able to drop in and meet Linel and have a great time making lots of gorgeous cards!
Lynell Harlow/Dreamweaver Classes!
Lynell Harlow, owner/designer of Dreamweaver Stencils, visited us March 30th to teach two classes! In Always Something New at Dreamweaver Stencils she presented a new tool for applying the Embossing Paste to large background stencils, and showed how to use glitter and flocking on these larger designs. In What Goes Around Comes Around students played with foils and the new colored aluminum metails as she shares with you the newest techniques for working with these mediums.
Chris Cozen/Golden Workshops
Golden Artist Colors' Chris Cozen came back to Stamping Details on February 4th through 6th with five new workshops! Students got a hands-on opportunity to use a wonderful family of transparent pigments known as Quinacridones in The Mighty Quinns: Quinacridone Pigments, That Is! They explored the magic of interference and iridescent pigments on black and dark colored surfaces in Black Magic: Creating Your Own Magical Collage Papers. Her other workshops included: Heartfelt Words: Mixed Media w/Chris Cozen from Golden, Key to My Heart–Dimensional Collage Techniques w/Chris Cozen from Golden, and Bleeding Hearts w/Chris Cozen from Golden.
Linda Bradbury Was Here!
Linda Bradbuy was here January 13th through January 16th with five new classes of wonderful Classic Expressions card designs! Everyone had fun in her classes: In the Treetop, A Ride In the Park, On That Note... Portfolio Collection, A Room With a View, and In the Treetop. Did we see you here? We hope you didn't miss the fun! But if you did, she'll be back here in April with her sister Linel – hope to see you then!
Trash to Treasure Garage Sale
Stamping Details held our second Trash to Treasure Garage Sale on January 8th-9th. Like last time: customers brought all of their wonderful treasures that needed a new home, left it here for the weekend, and we will sold it for them. Then, they got store credit for the items sold! Sign up soon – space is limited and time is running out!